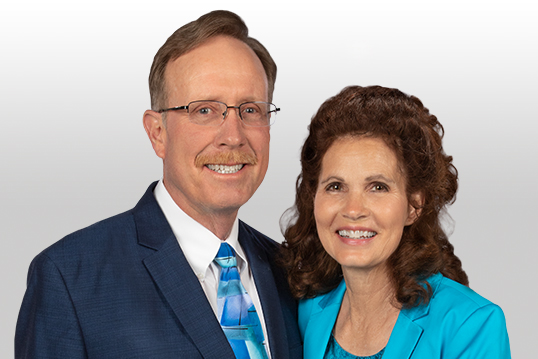 Jeff Doerr, Director of Planned Giving and Trust Services, and wife Charletta
Services Offered
There are many unique ways in which 3ABN supporters help spread the gospel of Jesus Christ in cooperation with our Planned Giving & Trust Services. Under the able leadership of Jeff Doerr, these services have provided the means for 3ABN to make great strides each year. In whatever form chosen, our supporters have total confidence that their gifts are being used to further the cause of God through this ministry.
The Charitable Gift Annuity program has been adopted by 3ABN as a service to our many friends and faithful supporters who have expressed a desire to make a gift to the soul-winning outreach of this ministry. There are many advantages to the giver, including interest payments for life, tax deductions, partial tax-free income, and a fixed rate based on age — the older the annuitant, the higher the rate.
Property Self-Administered Trust is the most important document to have. It may be funded with homes, farms, cash, stocks, or bonds — all with the complete assurance that, upon the giver's demise, 3ABN will distribute their assets to their loved ones, and to the Lord's work, according to their wishes. This document can be amended and changed upon request.
The Revocable Cash Trust provides an attractive rate of interest. The funds can be accessed in case of an emergency or a special need.
A Charitable Remainder Unitrust is an option for avoiding capital gains taxes on highly appreciated property. Benefits include: increased income from low-yielding assets; reduction or elimination of income taxes, estate taxes, gift taxes, that would otherwise be due; and the creation of a source of income for children, parents, and/or other loved ones.
Another way is to make 3ABN a beneficiary of their Will. Some may place a Pay-on-Death (P.O.D.) designating 3ABN as a beneficiary on their financial or investment accounts. We praise God for His faithful followers who have made provisions for supporting this ministry, even after they have been laid to rest in Jesus, awaiting His soon return.
PDF Forms
If you are interested in a type of Trust or Annuity not listed, contact 3ABN Planned Giving and Trust Services for additional forms